G.O.D. AWARDS COMES TO CALIFORNIA WITH GLOBAL EXPO 2019 TO BENEFIT MARGINALIZED VETERANS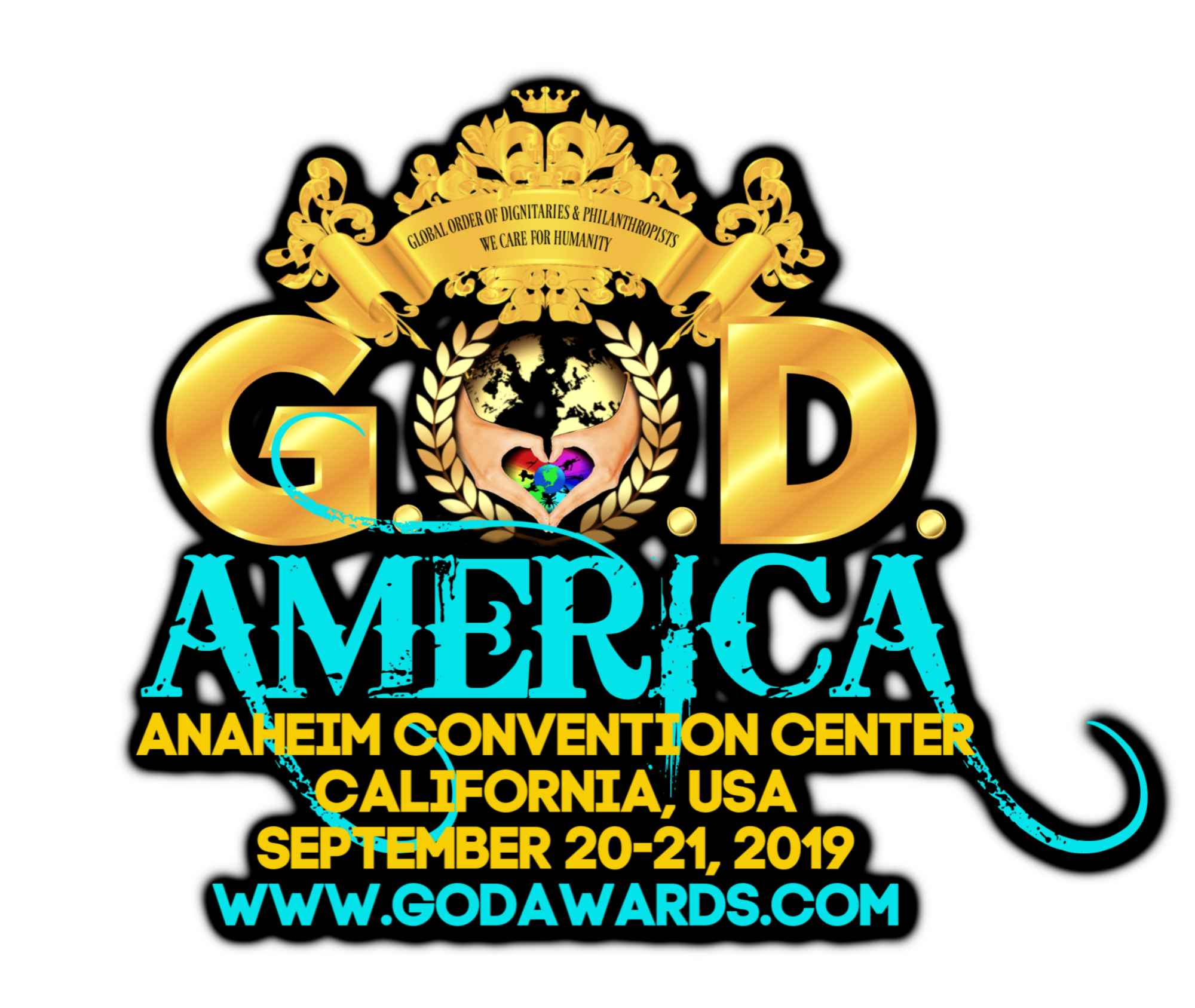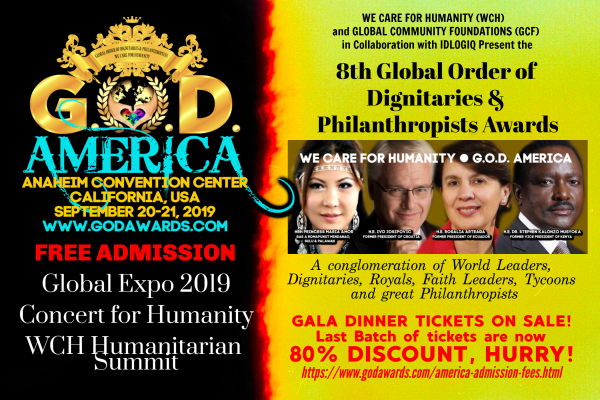 Following the overwhelming success of the 7th G.O.D. event at the United Nations in Geneva last 11th and 12th of July 2019, philanthropists will once again travel across the globe this summer, to celebrate humanitarian efforts at one of America's landmarks, the Anaheim Convention Center (ACC), where We Care for Humanity (WCH), a 501c3 non-profit organization advocating Human Rights, World Peace, Green Environment, Education, Health, Eradication of Poverty and Empowerment, and its philanthropic partners, will convene one of the biggest collaborations in the history of philanthropy; the 8th Global Order of Dignitaries & Philanthropists (G.O.D.), AMERICA slated on 20th and 21st of September, 2019.
Video Link: http://www.youtube.com/embed/S4gxVE6Hfvc
Video Link: http://www.youtube.com/embed/3DhOiT41-O8
Video Link: http://www.youtube.com/embed/R1Flafeoq1
Hosted by the Global Community Foundations (GCF) and co-chaired by Hon. Congressman J. Louis Correa of 46th District of California and Sub Committee for Homeland and Security, H.E. Ivo Josipovic, 3rd President of Croatia, H.E. Rosalia Arteaga, former President of Ecuador, and H.E. Dr. Stephen Kalonzo Musyoka, 10th Vice President of Kenya, G.O.D. America aims to benefit the Homeless Veterans of California reclaim their dignity and to live a sustainable healthy lifestyle, a project being undertaken currently by WCH.
Her Highness Princess Maria Amor Torres, founder of WCH and Chairman and Creator of the G.O.D. Awards said, "G.O.D. mission continues in this part of the world, we will recognize Americans and the humanitarians-at-large for their contribution to the welfare of the human race. WCH is grateful to GCF and Dr. Tony Nguyen who are trying to augment the issues of the Veterans in California, being the beneficiary of this event. We are happy to use the G.O.D. platform not only to promote universal humanitarianism and recognize great philanthropists but also to spearhead social partnerships and collaborations".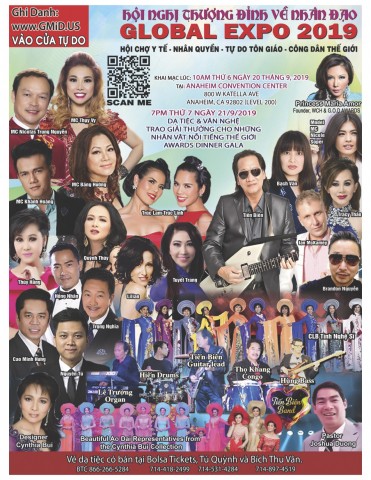 GCF's flagship event the GLOBAL EXPO 2019 is one of G.O.D.'s major component. Focusing on Health & Wellness Summit and Health Fair, Global Expo promises to distribute 10,000 Global Medical Cards to the attendees of the event. "Global Expo 2019 is beyond just healthcare and health maintenance. Our goal is to develop holistic well-being programs for individuals, curb the rising costs of healthcare, and influence systemic change in the healthcare industry", explained by Dr. Kelly Nguyen, CEO of IDLOGIQ, the main partner in the expo. Dr. Jay Shah, Medical Director of Global TeleCare, Inc. also said "Our targets are to foster peace and promote health and wellness leaving no one behind by providing our guests the tools they need; health education, thorough clinical evaluation, EKG screening & blood tests, all for FREE to all attendees!"
An advocate of world peace, Dr. Tony Nguyen, founder of GCF announced, "one of our missions in this event is to introduce the Project: Building The 14th Dalai Lama's Library and Museum in United States. The Main goal for this project is to preserve the teachings of His Holiness which is the promotion of basic human value and religious harmony, a must for the 21st century-young generation to make a peaceful, healthy and happy world in the future."
As a tradition, G.O.D. is integrated with WCH Humanitarian Summit to tackle social issues and promote the 17 United Nations Sustainable Development Goals. Esteemed personalities will be joining the panel of speakers: H.M. Constantine Butamanya Mwogezi, King of Buruli, Uganda; HRH Olimi Best Kemigisa, Queen Mother of Kingdom of Tooro, Uganda; H.M. Yadou Abalounorou Zibrila, King of Badjoude Community Ouake, Benin; H.M. Petoni Koda VI, King of Djougou, Republic of Benin; Dr. Udit Raj, Chairman of All India Confederation of SC/ST Org.; Sam Pitroda, Chairman of Global Knowledge Initiative; John Robinson, Founder of Concern International Foundation and many more!
The two-day event is expected to showcase variety of cultural entertainment and a lot of exciting innovations to benefit humanity. Registration is FREE at WWW.GMID.US
Media Contact
Company Name: WE CARE FOR HUMANITY
Contact Person: WCH Admin
Email: Send Email
Phone: 8185145756
Country: United States
Website: http://www.godawards.com