The First Concert Film of its Kind in 432 Hz by Scott Howard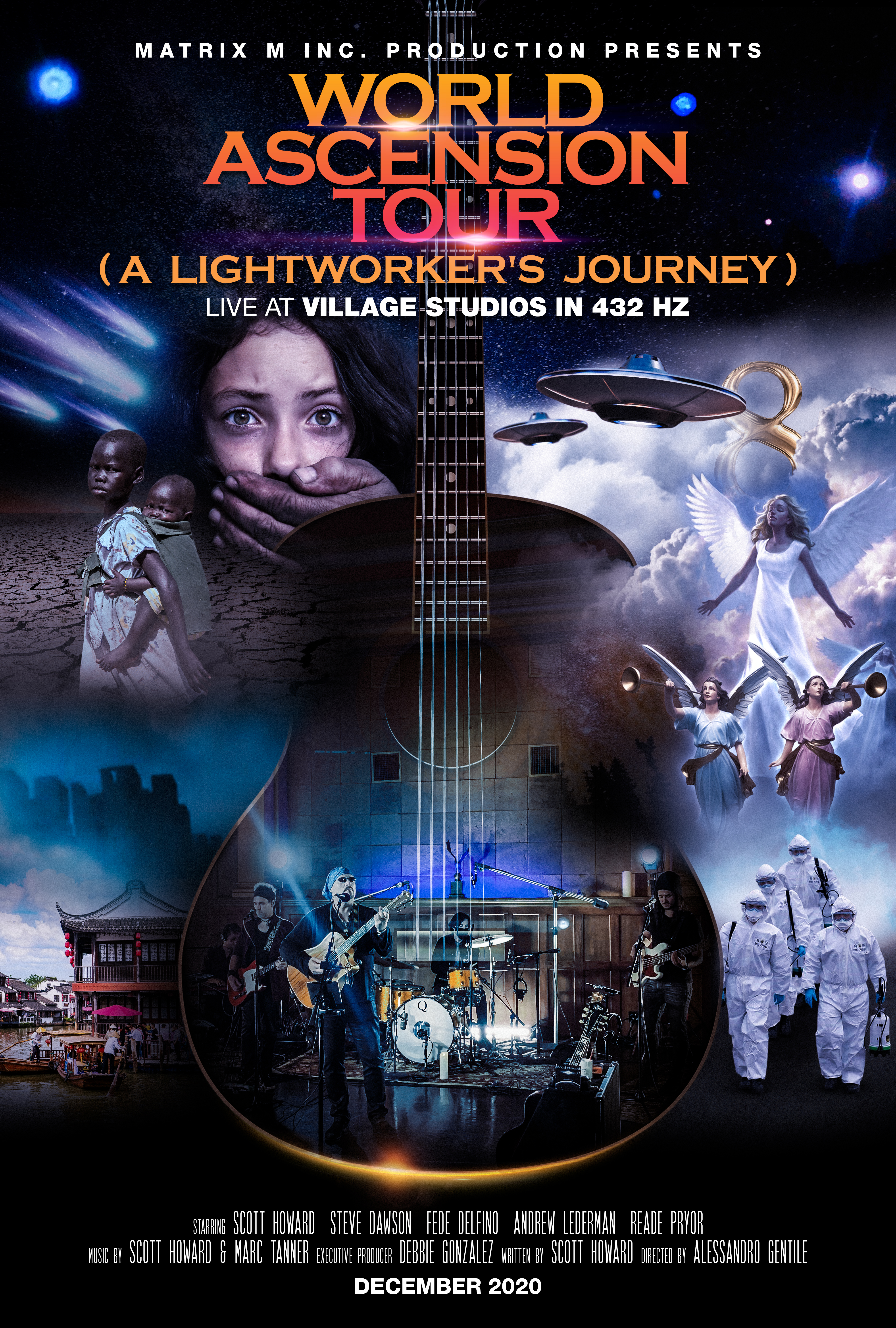 Los Angeles, CA – Scott Howard and his band goes virtual with the World Ascension Tour (A Lightworker's Journey) Live at Village Studios in 432 Hz, coming this December 2020. Scott Howard keeps the rhythm flowing through a one-of-a-kind performance. The concert film will be on Amazon Prime and other streaming platforms as an initial release. While we continue to monitor the world stage in hopes of theatre re-openings and the lifting of recent shutdowns, a red-carpet premiere event which consists of a live show, film screening, and a press junket is in the planning stages for January 2021.
The Village Studios, housed in a vintage Masonic Temple, is the birthplace of some of the greatest music recorded by Bob Dylan, Frank Zappa, John Mayer, and many more. It was also the center of Maharishi Mahesh Yogi's Transcendental Meditation during the '60s. And, is now the setting for Scott Howard's long-awaited, first of its kind, concert film.
The concert offers a multi-dimensional experience enhanced by immersive visual effects poised to capture the viewers' attention. Fans from around the world will enjoy some of the best of Scott Howard's hits and more. The set-list features a potpourri of hits from his 2018 album "Ascended Man" and his most recent 2020 EP, "The Language of Clouds." All of which is available for preorder in a new limited-edition compilation vinyl album on www.scotthowardmusic.com. The first 50 orders will be personalized and autographed for the holidays.
The highly anticipated "The Language of Clouds" eBook is also set to be released soon alongside the vinyl album. The eBook contains the heartfelt story of a raw awakening of a Soul Spark which accounts for Scott's experience through photographic exploration of a psychedelic-like 5D realm taken over the years of Scott Howard's awakening journey. A journey that continues to this day. A never-ending story representative of his ethereal evolution.
Scott Howard has been called a "worker of light" bringing needed attention to the dark areas of our world through his music. Scott commits a portion of all purchases to help shed light, eradicate child trafficking and associated traumas and help curb teen and young adult substance abuse.
Scott Howard's music has reverberated globally, streaming over 12 million times on social media and multiple streaming platforms. Scott claims his songs are "channeled" and written prophetically. His songs like "Written in the Clouds" and "Come with Me" are replete with emotional and transcendental themes. Now, available in virtual form, fans will experience a spectacular visualization of this new genre of music called Source Music through A Concert Night in with the Family in 432 Hz.
The ever-inventive Scott Howard is also releasing his new signature, unisex apparel, AscensioN432WeaR featuring multi-functional face and headshields, and a shirt line available with ancient protection symbols and 3 types of inlaid crystals.
Fans can also support and engage with Scott Howard personally via face-to-face virtual meetings on his Patreon page, where he shares his spiritual story of his path to redemption and a reawakening of ancient knowledge through his music.
Join Scott Howard and millions of others on an amazing journey to seeing the truth behind 2020 in an awakening experience for all. For more information visit www.scotthowardmusic.com.
Media Contact
Company Name: Rachel Dares PR
Contact Person: Rachel Dares
Email: Send Email
Phone: 7147189043
Address:680 E. Colorado Blvd. #2044
City: Pasadena
State: CA
Country: United States
Website: www.RachelDaresPR.com