RaptorJunkies.com Launches to Connect Raptor Enthusiasts Nationwide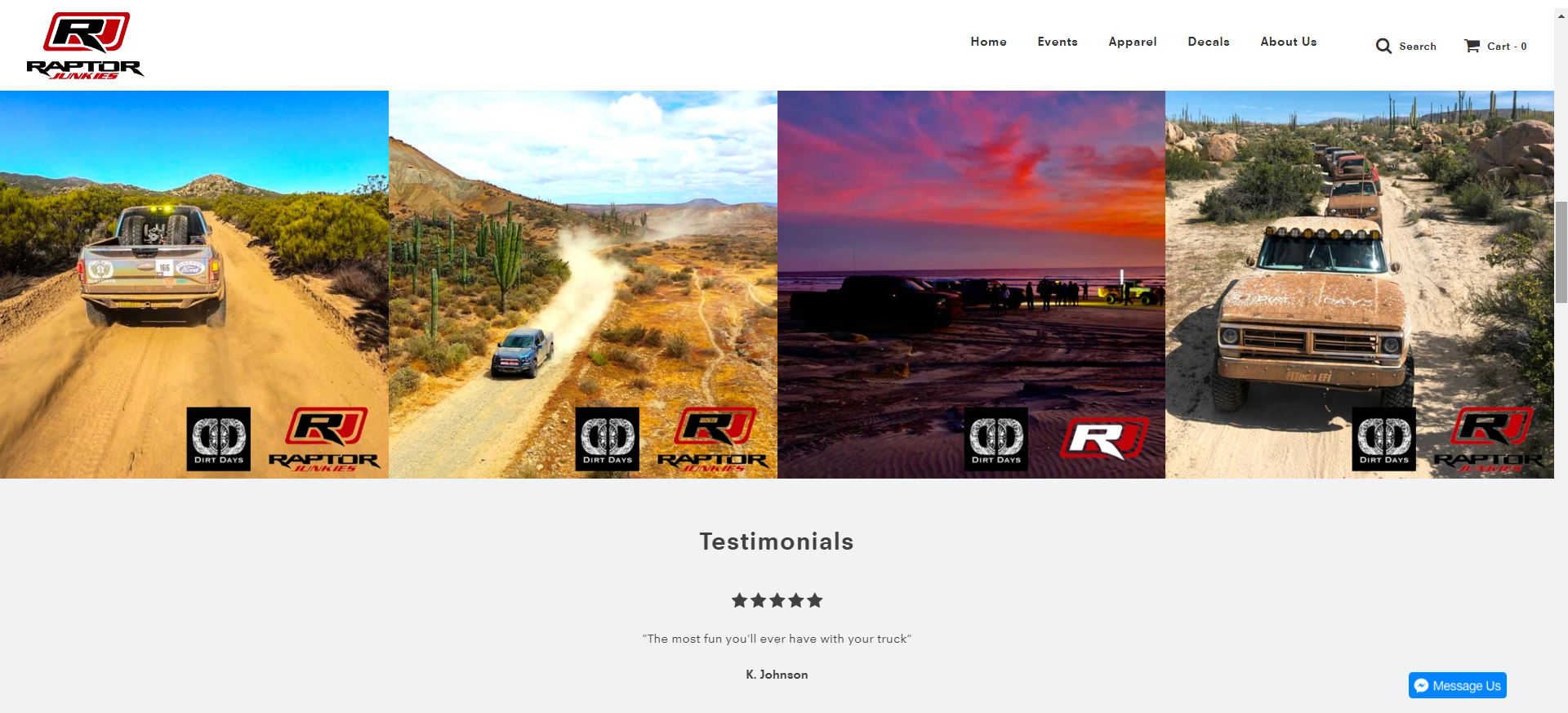 Raptor Junkies, a nationwide exclusive group of multi-generational Raptor owners, was co-founded in 2020 by Nickolas Volker and Kimarie Johnson.
Their new website, RaptorJunkies.com, connects members who love to off-road, upgrade and build the heck out of their trucks! They share the love of trucks, talk about their builds, submit and share part reviews, photos, videos and assist other junkies diagnosing and troubleshooting problems and invite you to join them and connect with others nationwide.
With members residing across the country, Raptor Junkies is perfect for locating others in your area to go on runs with, plan a wrenching party, share a meal or to just hang out with like minded people. Locating members near you and planning a get together is as simple as a post on the Raptor Junkies website.
Prior to Raptor Junkies' launch, there hasn't yet been a community of Raptor enthusiasts readily accessible. And, despite the pandemic, Raptor enthusiasts are signing up, getting connected and using the platform to locate the road less traveled and to buy upgrades and modifications. Social distancing is easy in a Raptor and when connecting in person with others. Wear your mask and keep your distance, the fresh air and exhilaration is good for your health and soul!
If you off-road, overland, make Starbucks runs, mob at high speed in Baja, join fellow enthusiasts in planned group events, or just want to share the love of your Raptor, RaptorJunkies.com provides opportunities to connect and share the joy.
About Raptor Junkies & RaptorJunkies.com
Raptor Junkies and RaptorJunkies.com provides a means to connect with likeminded Raptor enthusiasts and offers access to select vendors who will educate you, answer questions, troubleshoot issues and guide you to choose the best modifications for your specific needs.
What is a Raptor Junkie?
Raptor | Rap·tor | /ˈraptər/ – Ford Raptor is a nameplate used by Ford Motor Company on "high-performance" pickup trucks. In use since the 2010 model year, the Raptor is the highest-performance version of the Ford F-150.
Junkies | junk·ies | /ˈjəNGkēs/ | Slang – a person with an insatiable craving for something: a Raptor Junkie. an enthusiastic follower; fan; devotee: a Mod or an Off-road Junkie.
Media Contact
Company Name: On It Media LLC
Contact Person: Media Contact
Email: Send Email
Phone: 8889191917
Address:107 S WEST STREET 136
City: ALEXANDRIA
State: VA
Country: United States
Website: http://raptorjunkies.com