New Arts and Crafts Trend for the Era of Covid-19 – Diamond Painting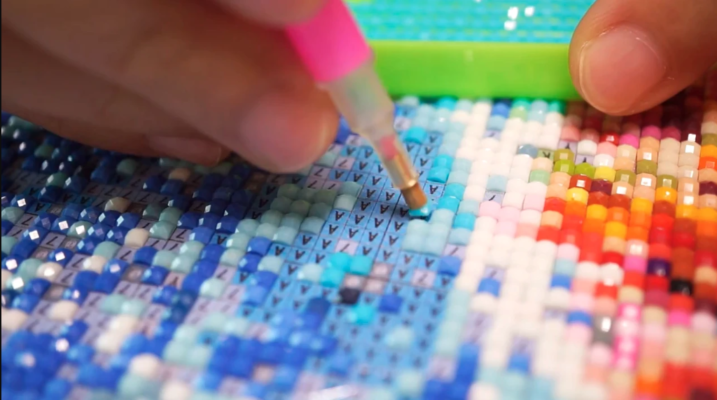 Kids and Adults are Using Diamond Painting as a Coping Mechanism
San Francisco, CA – Dec 21, 2020 – During a period of lockdowns and quarantine and stay-at-home-orders, many people have turned to hobbies they can enjoy from inside their home to beak up the monotony and boredom. There is renewed interest in arts and crafts, including diamond painting, which has seen significant sales growth and renewed consumer interest over the last year.
Diamond painting is used as a coping mechanism for families and individuals trapped at home while they try to make the best of obeying guidelines that mandate limited movement and social interaction for their areas. This is a relaxing activity that can take up hours of the day and fill boring and aimless days with a sense of accomplishment. Many people frame and hang their diamond paintings after they complete them.
Diamond paintings are easy enough for anyone to pick up and get the hang of, and they have been compared to paint-by-number activities. They are similarly calming and meditative, making them ideal for children who have difficulty paying attention in class or focusing on a single activity. Their simple design and the repetition of action they require means that diamond painting is well-suited for focusing attention and soothing irritable children in classroom and home settings.
Many parents have been using diamond painting activities to keep their children occupied and entertained through long hours spent at home. Sales of diamond paintings for kids have dramatically increased since the beginning of 2020, as people are trying to find activities they can do safely at home. The meditative pace of diamond painting is helping to relieve stress in people who are frustrated with being stuck at home with little to do.
Diamond painting is a hobby for those who are looking to save money and get good value for what they spend. There are large and small sizes of canvases available, so consumers can pick what they are more comfortable with and what is most affordable for them, getting started with cheaper, simpler paintings.
The large selection of paintings available means that those who start in the hobby will never run out of paintings to complete. There are even custom painting options available from retailers like Diamond Painting House, and these allow consumers to design or upload their own photos to be printed on a diamond painting canvas.
The pandemic has changed the way consumers buy and how they spend their time and money. Purchasing trends seem to indicate that consumers are looking for long-lasting value and for products that will have some meaning to them as well as help them cope with stress, loneliness and boredom. Diamond paintings fulfill those requirements for many people, giving them a soothing activity they can do at any time, at their own pace.
Many consumers are now sharing with friends and family members how effective diamond painting has been for stress relief and home therapy, giving them peace of mind during unpeaceful times. The market for diamond paintings has exploded as a result, with more consumers than ever getting into the hobby and sharing it with those in their social circle.
The arts and crafts categories have also all seen rapid growth over the past year, with Amazon, or websites like EasyPeasyAndFun, but it is significant to note that diamond painting is a relatively new product, only gaining worldwide popularity in 2018. Now, with more people forced to stay home and many looking for a relaxing activity they can do with others or on their own, diamond painting has been propelled to the forefront of the arts and crafts niche.
Media Contact
Company Name: Diamond Painting House
Contact Person: Media Relations
Email: Send Email
Phone: 917-651-0066
Country: United States
Website: www.diamondpaintinghouse.com