Emerging author Christopher Cole releases the second book from his Dark Days Series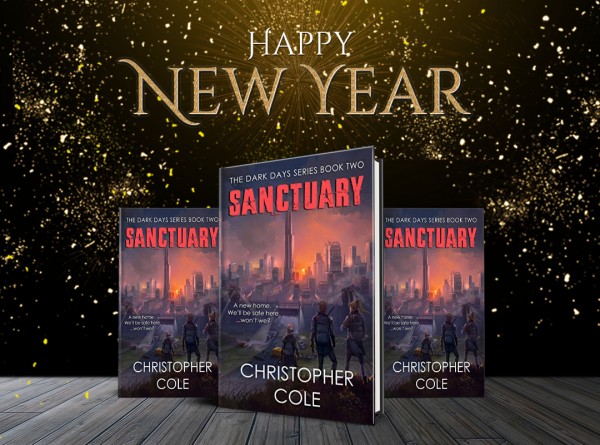 The search for a spectacular science fiction thriller book ends here! Written by the emerging author Christopher Cole, "Sanctuary (Dark Days Series Book 2) book is a treat to all the thriller and adventure book lovers. This book is a post-apocalyptic thriller that consists of greatly developed fictional characters, including the protagonist, Sonny, and his friends Ashley and Carrie. The sequel to Cole's first book from his Dark Day Series, "Outbreak", "Sanctuary" is just as good. With such intriguing character development and a bewildering plot, this book is getting a lot of reception from readers worldwide.
The first book from the Dark Days Series was published on January 24, 2019. This 212 pages long book created a buzz among the readers ever since its launch as one of the best books in the Post-Apocalyptic Science Fiction category. But with the release of "Sanctuary", the author has proven that he has even better things in store for the readers. Published on November 9, 2020, "Sanctuary" is considered one of the best works by Cole to date. Both books are published by Kingston Publishing Company.
"Sanctuary by Christopher Cole is the excellent sequel to Outbreak (The Dark Days Series.). If you're looking for a nail-biting, edge-of-your-seat teen and young adult, post-apocalyptic thriller then this is your book!", says a review by Artisan Book on "Sanctuary (Dark Days Series Book 2).
"What a brilliant new instalment in The Dark Days series!" – Reviewed by Rabia Tanveer for Readers' Favorite giving five stars.
Born in Seattle, Washington, Christopher Cole is a talented writer who started to work on writing novels when he was just nineteen years old. After honing his craft for several years, Cole finally decided to publish his first novel recently. The feedback that he received from the readers after publishing his first book is what motivated him to write more. Apart from being a writer, Cole also works as a welder in the Raleigh, NC area.
Telling about his profession, Cole says, "I'm a welder and a writer because I love working with my hands and creating a story. Writing is a lost art that I enjoy."
Cole is an award-winning author who won the Literary Titan Silver Award and the Royal Dragonfly Award as Honorable Mention for his book "Outbreak (The Dark Days Series Book 1). He loves to read post-apocalyptic science fiction and adventure stories including, The Walking Dead, Everlost, The Enemy, and others. This is how he came up with the idea of writing his book in the same genre.
Cole is currently working on the third book of The Dark Days series, Survival, which is soon to get published.
Purchase your copy of "Sanctuary (The Dark Days Series Book 2) now on Amazon.com and Barnes &Noble.
Media Contact
Company Name: Kingston Publishing Company
Contact Person: Christopher Cole
Email: Send Email
Country: United States
Website: www.kingstonpublishing.com/christopher-cole.html