An Instant Classic Released 'The Witch Demands A Retraction – Fairy Tale Reboots For Adults' By Melissa Balmain & Illustrated by Ron Barrett, of Iconic 'Cloudy With A Chance of Meatballs'.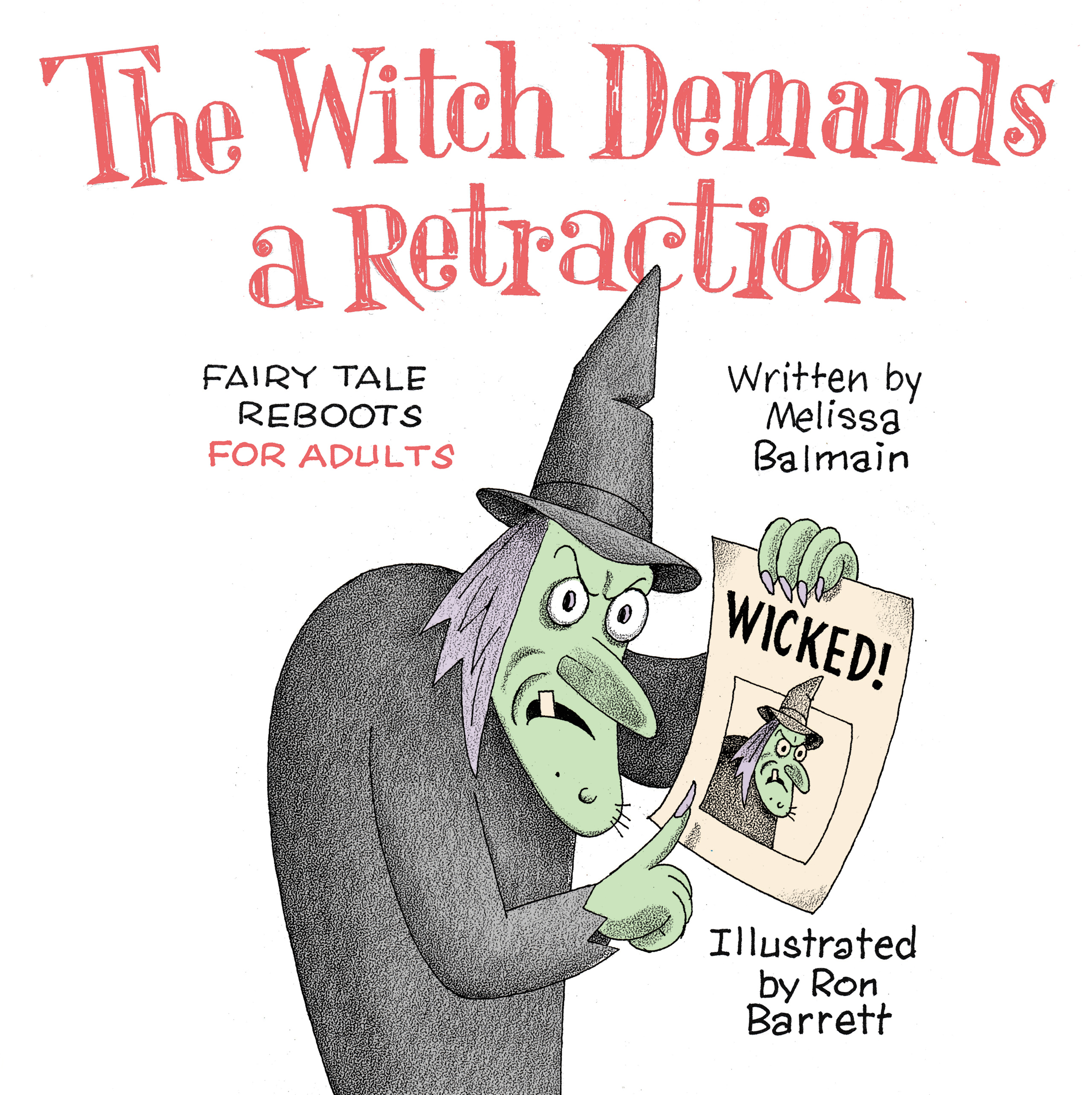 New York, NY – There's always more to the story and 'The Witch Demands a Retraction', the newest illustrated book from Humorist Books, aims to set the record straight. The book answers all of the mysteries that have been left unanswered for so long, including Goldilocks' affair with Papa Bear and Snow White's sexcapades with the 7 dwarves. Written by humorist and acclaimed poet Melissa Balmain and illustrated by award-winning illustrator, Ron Barrett, this book provides laughs and twisted entertainment to everyone who reads it.
Currently ranked #1 in Amazon New Releases and featured in The Washington Post, calling it a "…Devilishly delightful new book…"
Gene Weingarten, syndicated humor columnist, The Washington Post, says "This is an extremely irresponsible book — imprudent, unconscionable, certain to emotionally scar impressionable children for life. I highly recommend it." Tom Bodett, author and NPR personality commented, "If you're looking for the perfect bedtime poetry to send your little ones peacefully to dreamland, keep moving. In The Witch Demands a Retraction, Melissa Balmain's poetic retakes of classic fairytales, 'happy endings' means something else, and Mama Bear finds a clue in her bed that Goldilocks was not after the porridge. Witty, cringey, and hilarious. For every parent who wants a break from sincerity, and for every bad aunt or uncle looking for the perfect gift — this is your book."
The book's publisher, Weekly Humorist Editor-in-Chief, and Humorist Media CEO, Marty Dundics is thrilled at the book's release. "This book is incredible… instant classic," he said. "I am so excited to be a small part of its creation. The poems by Melissa are clever and hilarious, and Ron's wonderful illustrations are amazingly funny."
Melissa Balmain edits Light, America's longest-running journal of light verse. Her humor has appeared in The American Bystander, Lighten Up Online, McSweeney's, The New Yorker, The New York Times, Success, The Washington Post, and Weekly Humorist. Her full-length poetry collection, Walking in on People (winner of the Able Muse Book Award), has been praised by Poet Laureate Billy Collins as "an infectious, often hilarious blend of the sweet and the lethal, the charming and the acidic." Ron Barrett is the illustrator of the classic picture book, Cloudy With a Chance of Meatballs, one of The New York Times' Ten Best Illustrated Books. It has sold over six million copies globally and produced two motion pictures, a TV series, and plastic toys in Happy Meals. Ron's illustrations have been exhibited twice at The Louvre's Musée des Arts Décoratifs, most recently art from Animals should definitely not wear clothing. Ron's work has appeared in The New Yorker and The New York Times. He's also been Art Director of The National Lampoon.
There's always more to the story… read the real:
Snow White

Cinderella

The Three Pigs

Goldilocks

Rapunzel

and many more!
Read an excerpt of the book here: https://www.weeklyhumorist.com/the-witch-demands-a-retraction-fairy-tale-reboots-for-adults-book-excerpt/
To purchase The Witch Demands A Retraction visit the Amazon page.
PROMO IMAGES:
and Infosheet!
About Humorist Media:
Humorist Media LLC is a comedy media company that publishes WEEKLY HUMORIST magazine, comedy podcasts – including TALKWARD (their flagship interview show), stand up comedy showcase show GUARANTEED DELIVERY! Humor fiction, parodies, cartoon collections, and joke book publishing via HUMORIST BOOKS, and develops streaming and traditional live-action and animated scripted/unscripted entertainment through HUMORIST STUDIOS.
Media Contact
Company Name: Humorist Books
Contact Person: Andy Newton
Email: Send Email
Country: United States
Website: http://humoristbooks.com/