Michael D. Thomas Launches New Book To Help Students Form A Better Relationship With Money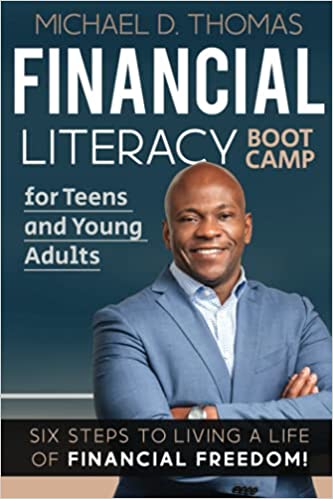 The publication by the experienced businessman is titled "Financial Literacy Boot Camp for Teens and Young Adults" and contains lessons on strategies for saving, investing, as well as establishing good credit, and living debt-free
January 24th, 2022 – Michael D. Thomas is delighted to announce that students who desire to have a better relationship with money can read his book to learn secrets and strategies, gathered from his years of doing business and building a successful career as an entrepreneur, motivational speaker, and owner of a fitness boot camp.
Titled Financial Literacy Boot Camp for Teens and Young Adults: Six Steps to Living a Life of Financial Freedom, the self-published work by the Arkansas born business expert contains lessons that arm students with the right information to make informed and effective decisions that will have life-long, positive effects on their finances.
According to Michael D. Thomas, true financial empowerment is the result of early and proper planning. Whether as a teen, a young adult, or even a student still in high school, having a proper understanding of how money works and how to plan appropriately determines, to a large extent, how successful and comfortable individuals will be in adulthood.
And while the sad reality is that most schools and college curriculums seldom venture into the important business of preparing students for a life of financial freedom, Financial Literacy Boot Camp for Teens and Young Adults: Six Steps to Living a Life of Financial Freedom dives right into the heart of the matter.
The 64-page book, published in August 2021, teaches students smart banking techniques and ways they can earn money doing what they love. Students who read the book will be able to properly draw up a financial success plan – popularly known as a budget, discover strategies for saving and investing, and also learn how to establish good credit and live debt-free.
Micheal D. Thomas has over 35 years of experience as an entrepreneur and is the proud owner of Columbia Life & Fitness Boot Camp. Raised in a small town near the Mississippi Delta, Michael grew up to the practical money lessons of his mother who was able to make ends meet and empower him with the qualities needed for him to achieve his dreams. Micheal is no stranger to helping and motivating people. And despite being less than a year old, his new book is already gathering rave reviews from readers all over the world who have described it as deeply insightful.
"This is an excellent read for teens and adults. This book contains simple and effective ways to understand financial literacy without all the useless information that some books provide. As an adult, you may feel as if you know all there is but there are some small things we miss especially when speaking with the youth about finances. Even if you have a handle on your finances this book will fire you up to start something new or refresh what you already have. Great work by Michael Thomas. Definitely, a book that your household needs." – Kindle Customer.
"I grabbed the book to give it to some young people that I know, and after flipping through the pages found it helpful for younger and older adults! It's an easy read, full of solid and practical advice for anyone desiring to make good money decisions. It's never too late to start or improve how you handle money. I recommend buying copies for the young people in your life and buying copies for yourself as well." – Michelle Edmondson.
Financial Literacy Boot Camp for Teens and Young Adults: Six Steps to Living a Life of Financial Freedom is currently available for purchase on Amazon in paperback for only $15 while the Kindle eBook can be read on any device with the free Kindle app.
Michael has continued to grow and learn throughout his career, and he brings this diverse experience and insight to his work at Columbia Life & Fitness Boot Camp. He is not only a United States Army Veteran, he has also worked as a Licensed Series 6 Financial Advisor, Juvenile Corrections Officer, Recreation Specialist, Youth Sunday School Leader, Battalion Chief at the Columbia Fire Department, and Personal Trainer. In addition, as a certified John Maxwell speaker, trainer, teacher, and coach, he combines his professional background with his personal experience in overcoming hardships as he guides others to live their best life.
Video link: https://www.youtube.com/watch?v=MnKrv4Mb9Ts
For more information, please contact below.
Media Contact
Contact Person: Michael D. Thomas
Email: Send Email
Address:1801 Gervais Street Suite F.
City: Columbia
State: SC 29201
Country: United States
Website: http://www.michaelbootcampthomas.com/