Pierce Alexander Lilholt Provokes More Than Just Questions With His Book Are You Awake
Avant-garde author, Pierce Alexander Lilholt, announces the release of his new book, "Are You Awake?" where he seeks to provoke thoughts and questions in the minds of readers across age groups worldwide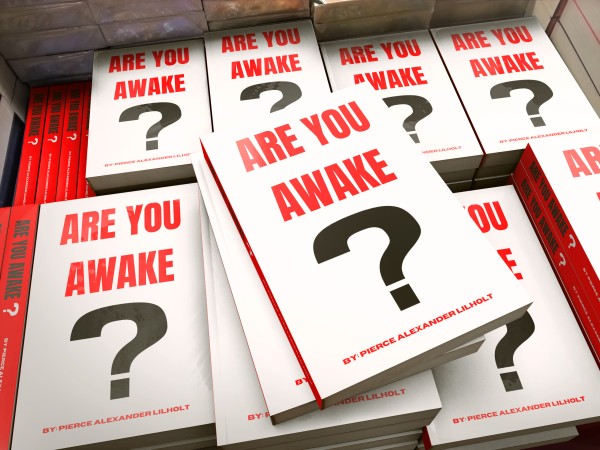 Pierce Alexander Lilholt might just be setting a standard in the world of literature with the release of Are You Awake?. The new book was officially released on May 1, 2022, as the author looks to deliver an unprecedented reading experience to millions of people across the globe, with probing questions that will inspire readers to think about things differently and question what they think they know.
"I never read a book like this. So, I had to write it." – Pierce Alexander Lilholt.
Writing has been described as an art and a form of expressing one's perception about certain subjects. Over the years, several authors have created stories that have not only entertained their readers but also informed as well as inspired readers in different ways. However, Pierce Alexander Lilholt seeks to take the experience to a whole new level with the launch of his "book of questions" – Are You Awake?
With thousands of questions, Are You Awake? contains more probing questions than any other book. It is particularly unique for its versatility and comprehensiveness, including something for every category of readers, as Pierce aims to engage and inspire them while reading alone to arouse deep reflection, or with friends and family to foster deep understanding and powerful connections.
The book is currently available on all major platforms in e-book and Hardcover, and is available on Amazon for readers across the globe.
Are You Awake? is a masterful work of creativity by Pierce Alexander Lilholt with the power to breed revolutionary ideas and thoughtful changes in society. Philosophy and metaphysics will be forever changed by this neoteric book.
Media Contact
Company Name: Universal Language Productions LLC
Contact Person: Pierce Alexander Lilholt
Email: Send Email
Phone: 1 800 472 0857
Address:212 Thomas Ave
City: Riverton
State: NJ 08077
Country: United States
Website: amazon.com/Are-Awake-Pierce-Alexander-Lilholt/dp/1667820591?msclkid=befcf7c3cf7811ec833102e720807cfb