Neurolumen "The Wonder Device" Helps Thousands of Veterans Live Their Lives Free of Chronic Pain

Neurolumen, the little device that relieves pain, is on a historic journey to help veterans live a relaxed and carefree life. After establishing its popularity with thousands of veterans, the company will be attending the DAV (Disabled American Veteran) National Conference at the end of July, 2020.
A 30-minute treatment with Neurolumen relieves excruciating pain and inflammation all over the body. The device, useful at clinics or home settings, uses a low-level laser, with LED and electrical stimulation that increases blood circulation, removes toxins, brings in nutrients, and brings down painful inflammation.
Cleared by the FDA, Neurolumen has shown success by focusing on veterans getting relief from their painful conditions and bringing them back to a normal life. This device has shown promising results. After just one month of use, 95% report improvement in pain relief and quality of life.
A Vietnam War veteran says, "I've had fibromyalgia for as long as I can remember and have tried just about every therapy to give me some comfort and mobility. I just hurt everywhere. I started using the Neurolumen system for pain and was amazed! For the first time in years I didn't hurt!"
Another case is that of a veteran battling Crohn's Disease and pain for 40 years. An hour-long treatment with Neurolumen relieved his pain for four days. In yet another case, a patient had spinal stenosis with surgery as the only option to reduce pain. Using Neurolumen helped bring under control both the spinal stenosis and the shoulder issues.
"It is so important to us that we do everything we can to improve the quality of life for every Veteran that is suffering in pain," says Shelly Henry, Founder of Neurolumen.
Oklahoma native Shelly, invented Neurolumen to help her daughter. The device turned out to be effective in reducing pain. Neurolumen is now focused on veterans due to the high incidence of chronic pain in this group. The device has been recommended for use by VA facilities in departments such as Women's Health, Recovery and Rehab, Post-Surgical Therapy, Drug Addiction Therapy, Spinal Trauma, Podiatry, Primary Care, Polytrauma and more.
Neurolumen is currently used at over 50 Veterans Affairs hospitals and rehabilitation clinics across the US. It has helped veterans to get completely off opiates. Neurolumen is on the GSA government schedule for the V.A. and is available in one of the largest drug rehab centers in the country, Houston's Memorial Hermann.
Contact Neurolumen directly at toll free number: 855-855-4648 or Direct Number: 405-463-6525
For more information, please visit: https://www.neurolumen.com/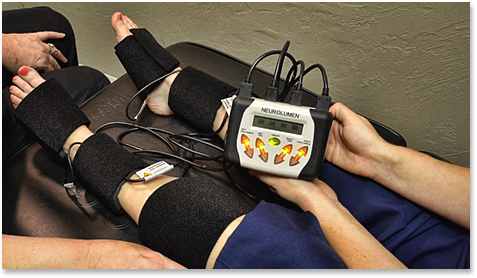 Media Contact
Company Name: Neurolumen, LLC
Contact Person: Shelly Henry
Email: Send Email
Phone: 405-463-6525
Address:9632 N May Avenue
City: Oklahoma City
State: OK 73099
Country: United States
Website: www.neurolumen.com/