GoodDay Skin Care: effectiveness of self-skincare in the untact era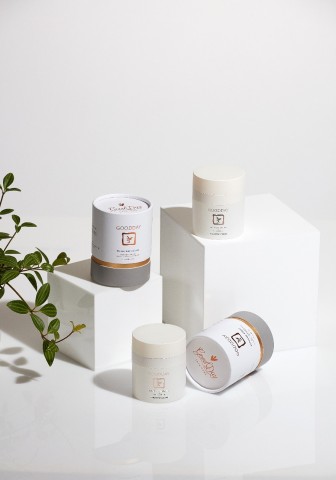 Juan Biotech Inc., is a company that has created its own brand "GoodDay Skincare" with the line of products such as Turmeric Brightening Cream and Turmeric Moisturizing Facial Mask. This brand is currently attracted by those who are interested in the most effective way to establish a hydrating, nourishing and brightening skin care routine at home without visiting a skincare shop especially in the untact era of COVID-19 pandemic.
GoodDay Skincare is highly effective in regenerating and restoring damaged skin as well as plumping up wrinkles and reconditioning the skin without resorting to surgery. The brand also uses the advanced formula infused with powerful ingredients such as turmeric, cinnamon and rosehip by extracting them with its own patented technology (micro-extract) for optimum absorption into skin.
Goodday Skincare's products relieves the symptoms of skin irritation by using 100% natural ingredients while other existing products in the market add artificial and harmful ingredients such as steroids.
A company official said both the cream and mask contain enzyme-rich extracts of three main ingredients: turmeric, cinnamon and rosehip, thereby effectively removing melanin cells, dead cells and skin wastes, which are the main causes of various skin troubles.
In addition, the brand has the advantage of not just temporarily hiding or relieving the symptoms of skin troubles but fundamentally improving the main root of the problem so that it gives you beautiful and healthy skin from within when used continuously. The brand promises both the cream and mask will noticeably brighten skin for a visibly fairer, more radiant and balanced complexion while protecting against further discoloration and hyperpigmentation.
Furthermore, this brand is highly reliable as it offers 100% money back guarantee if customers do not experience the claimed results after four weeks of use. Given that there have been no cases of refund requests so far, it is considered a reliable product that consumers can trust and use.
The products of GoodDay Skincare can be purchased on the official online website (http://gooddayskincare.com).
Goodday Turmeric Cream is officially the best-selling beauty product of all time in China. As satisfying as it is to have perfect reviews from the crowd, sometimes you just can't beat safety in numbers. You may not be able to make the right decision on a product by its cover or its fancy packaging, but you can get a pretty good indicator on whether it's a hit from a product's popularity among many other beauty fanatics.
Goodday Skincare's Turmeric cream has proved its popularity as it is sold every 10 minutes and boasting over 20 million views of its product introduction video in China: https://m.weibo.cn/6051819372/4582378214007041
Media Contact
Company Name: GoodDay skincare
Contact Person: Min Ho Nam
Email: Send Email
Phone: +82 10-5515-9135, +82 2-2088-7851
Country: South Korea
Website: https://gooddayskincare.co.kr