A video by Hangzhou-based robotics company impresses the world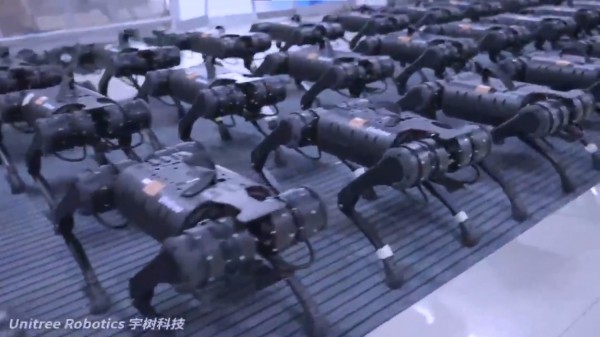 A video posted by Hangzhou-based robotics company Unitree revealing a squadron of four-legged robots moving in unison recently went viral on the internet and captured global attention, The Science Times, a website based in the United States focusing on science news, reported on April 6.
Many people were impressed with the robots completing a series of movements in unison, such as crouching down on the floor, springing up to a squatting position, and then leaning forward before returning to their original position, with some even wondering, "Will robots take over the world?"
The robots, known as Aliengo, were operated by artificial intelligence designed with in-depth perception, high explosive sports performance, and an advanced protection level.
With each weighing at around 20 kilograms, the robots stand out from similar products in terms of their speed, as they walked at least 1.5 meters per second at their debut show at the Consumer Electronics Show in Las Vegas, the US on Jan 7, 2020.
They can also perform all kinds of jumps and flips, which are made possible by their flexible joints and strong motor. Their feet have sensors that will tell the motor to make movements more efficient.
The Aliengo squadron also performed at this year's Spring Festival Gala in February, an annual event organized by China Central Television. The robots wore festive clothes echoing the Year of the Ox and danced in unison with several celebrities.
Media Contact
Company Name: The Information Office of Hangzhou Municipal Government
Contact Person: Cai Jingwen
Email: Send Email
Phone: 0510-68559077
Country: China
Website: http://www.ehangzhou.gov.cn/