Prurigo Nodularis Market to Exhibit Substantial Growth Rate During the Forecast Period (2022-2032) – DelveInsight | Key Companies – Amgen, Sanofi, Regeneron, Galderma, Kiniksa, Maruho, Trevi
DelveInsight's "Prurigo Nodularis Market Insights, Epidemiology, and Market Forecast 2032" report delivers an in-depth understanding of the disease, historical and forecasted epidemiology, as well as the Prurigo Nodularis market size, share, trends, and growth opportunities in the seven major markets (7MM) (i.e., the United States, EU4 (Germany, Spain, Italy, France), the United Kingdom and Japan).
The Prurigo Nodularis market report covers emerging drugs, current treatment practices, market share of individual therapies, and current & forecasted market size from 2019 to 2032. It also evaluates the current treatment practice/algorithm, key drivers & barriers impacting the market growth, and unmet medical needs to curate the best of the opportunities and assess the underlying potential of the market.
Prurigo Nodularis: An Overview
Prurigo nodularis (PN) is an intensely pruritic, chronic skin condition characterized by localized or generalized hyperkeratotic papules and nodules, typically in a symmetrical distribution. PN is accompanied by long-standing pruritus and is thought to develop as a reaction to repeated scratching in patients with Chronic Prurigo (CP) from various etiologies, including dermatological, systemic, infectious, and psychiatric.
PN evolves along with consistent scratching in chronic pruritus conditions and is a subtype of CP. According to the definition by members of the European Academy of Dermatology and Venereology (EADV) Task Force Pruritus group, it is a skin disease due to neuronal sensitization to itch, i.e., amplification of pruritic signaling in the peripheral and central nervous system and development of an itch-scratch cycle.
Prurigo Nodularis Market Key Facts
The total diagnosed prevalent population of Prurigo Nodularis in the 7MM was found to be 539,893 in 2017.

The United States had the largest share in the total diagnosed prevalent patient population in the 7MM, acquiring ~46.30% of the total cases in 2017.

As per DelveInsight's analysis, it has been observed that most of the patients with Prurigo Nodularis are diagnosed with atopic Prurigo Nodularis in comparison with non-atopic Prurigo Nodularis.

Japan had the least number of cases with 83,065 patients affected with Prurigo Nodularis in 2017, which is expected to increase in the forecast period.

Among the European 5 countries, Germany had the highest prevalent population of Prurigo Nodularis, followed by France and Italy. On the other hand, Spain had the lowest prevalent population of Prurigo Nodularis.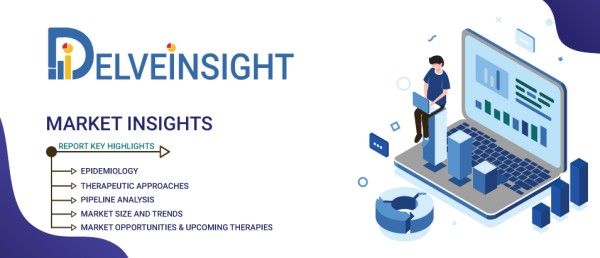 The market outlook section of the report helps to build a detailed comprehension of the historical, current and forecasted Prurigo Nodularis market size by analyzing the impact of current and emerging pipeline therapies. It also thoroughly assesses the market drivers & barriers, unmet needs, and emerging technologies set to impact the market dynamics.
The report gives complete detail of the Prurigo Nodularis market trend for each marketed drug and mid & late-stage pipeline therapies by evaluating their impact based on the annual cost of therapy, their Mechanism of Action (MOA), Route of Administration (ROA), molecule types, competition with other therapies, brand value, and their impact on the market.
Prurigo Nodularis Epidemiology Assessment
The epidemiology section provides insights into the historical, current, and forecasted epidemiology trends in the seven major countries (7MM) from 2019 to 2032. It helps to recognize the causes of current and forecasted epidemiology trends by exploring numerous studies and research. The epidemiology section also provides a detailed analysis of diagnosed and prevalent patient pools, future trends, and views of key opinion leaders.
The Report Covers the Prurigo Nodularis Epidemiology, Segmented as –
Diagnosed Prevalent Cases of Prurigo nodularis (PN) (2019–2032)

Age-specific Diagnosed Prevalence of Prurigo nodularis (PN) (2019–2032)

Gender-specific Diagnosed Prevalence of Prurigo nodularis (PN) (2019–2032)

Type-specific Diagnosed Prevalence of Prurigo nodularis (PN) (2019–2032)

Severity-specific Diagnosed Prevalence of Prurigo nodularis (PN) (2019–2032)
Prurigo Nodularis Drugs Uptake and Pipeline Development Activities
The drug uptake section focuses on the uptake rate of potential drugs recently launched in the Prurigo Nodularis market or expected to be launched during the study period. The analysis covers the Prurigo Nodularis market uptake by drugs, patient uptake by therapies, and sales of each drug. Moreover, the therapeutics assessment section helps understand the drugs with the most rapid uptake and the reasons behind the maximal use of the drugs. Additionally, it compares the drugs based on market share.
The report also covers the Prurigo Nodularis pipeline development activities. It provides valuable insights about different therapeutic candidates in various stages and the key companies involved in developing targeted therapeutics. It also analyzes recent developments such as collaborations, acquisitions, mergers, licensing patent details, and other information for emerging therapies.
Learn How the Prurigo Nodularis Market Will Evolve and Grow by 2032 @
https://www.delveinsight.com/sample-request/prurigo-nodularis-market
Prurigo Nodularis Therapeutics Analysis
Treatment of Prurigo Nodularis is challenging. The current market of Prurigo Nodularis can be classified based on the severity of the disease as mild, moderate, and severe. There is a multimodal treatment algorithm consisting of topical and systemic therapies, where topical therapies are used for treating the visible form of the disease. In contrast, systemic therapies are used for symptomatic treatment.
Leading Players in the Prurigo Nodularis Therapeutics Market Include
Menlo Therapeutics

Galderma R&D

Kiniksa Pharmaceuticals

Sanofi

Maruho
And Many Others
Prurigo Nodularis Emerging and Marketed Drugs Covered in the Report Include:
Apremilast (CC-10004): Amgen

Dupixent (Dupilumab/SAR231893): Sanofi/Regeneron Pharmaceuticals

M 118103: Maruho

Nalbuphine ER: Trevi Therapeutics

Nemolizumab: Chugai/Galderma

Serlopitant: Menlo Therapeutics

Vixarelimab: Kiniksa Pharmaceuticals
And Many More
The Report Covers the In-depth Assessment of the Emerging Drugs & Key Companies. Download the Sample Report to Learn More @
https://www.delveinsight.com/sample-request/prurigo-nodularis-market
Table of Content (TOC)
1. Key Insights
2. Executive Summary
3. Prurigo Nodularis Competitive Intelligence Analysis
4. Prurigo Nodularis Market Overview at a Glance
5. Prurigo Nodularis Disease Background and Overview
6. Prurigo Nodularis Patient Journey
7. Prurigo Nodularis Epidemiology and Patient Population (In the US, EU5, and Japan)
8. Prurigo Nodularis Treatment Algorithm, Current Treatment, and Medical Practices
9. Prurigo Nodularis Unmet Needs
10. Key Endpoints of Prurigo Nodularis Treatment
11. Prurigo Nodularis Marketed Products
12. Prurigo Nodularis Emerging Drugs and Latest Therapeutic Advances
13. Prurigo Nodularis Seven Major Market Analysis
14. Attribute Analysis
15. Prurigo Nodularis Market Outlook (In US, EU5, and Japan)
16. Prurigo Nodularis Access and Reimbursement Overview
17. KOL Views on the Prurigo Nodularis Market
18. Prurigo Nodularis Market Drivers
19. Prurigo Nodularis Market Barriers
20. Appendix
21. DelveInsight Capabilities
22. Disclaimer
*The Table of Contents (TOC) is not exhaustive; the final content may vary. Refer to the sample report for the complete table of contents.
Download the Sample PDF to Learn More About the Key Offerings of the Report @
https://www.delveinsight.com/sample-request/prurigo-nodularis-market
About DelveInsight
DelveInsight is a leading Business Consultant and Market Research Firm focused exclusively on life sciences. It supports pharma companies by providing comprehensive end-to-end solutions to improve their performance.
Other Trending Healthcare Reports by DelveInsight
Sacral Nerve Stimulator Devices Market
The global Sacral Nerve Stimulator Devices Market was valued at USD 1,064.05 million in 2022, growing at a CAGR of 11.66% during the forecast period from 2023 to 2028. The demand for Sacral Nerve Stimulator Devices is primarily being boosted by the increasing figures for urinary retention, urgency frequency, fecal incontinence, and others. Further, the rising adoption of advanced and innovative technologies, the rising demand for minimally invasive treatment approaches, and the increasing product launches and approval among others, are thereby contributing to the overall growth of the sacral nerve stimulator devices market.
Media Contact
Company Name: DelveInsight Business Research LLP
Contact Person: Shruti Thakur
Email: Send Email
Phone: 09650213330
Address:304 S. Jones Blvd #2432
City: Las Vegas
State: NV
Country: United States
Website: https://www.delveinsight.com/